Introducing our OEM Air Purifier, a high quality air purifier that combines advanced technology and reliable performance to deliver clean and fresh air to any indoor environment. Designed with versatility in mind, this OEM (Original Equipment Manufacturer) air purifier offers exceptional air filtration and purification capabilities.
Experience the exceptional air quality provided by our OEM Air Purifier. Equipped with a powerful filtration system, it effectively removes a wide range of airborne contaminants including dust, pollen, pet dander, mould spores, smoke and unpleasant odours. With the ability to capture particles as small as 0.3 microns, this air purifier ensures that the air you breathe is clean, pure and free from pollutants.
Our OEM air purifier uses multiple stages of filtration to achieve superior air purification. The pre-filter traps larger particles, extending the life of the subsequent filters and improving overall performance. The true HEPA filter captures microscopic particles and allergens, providing allergy relief and promoting better respiratory health. In addition, the activated charcoal filter removes odours, smoke and harmful gases, ensuring fresh and pleasant smelling air.
Designed with functionality and simplicity in mind, our OEM air purifiers offer user-friendly controls and adjustable fan speeds. You can easily adjust the purification settings to suit your specific needs and preferences, ensuring optimal air quality in your room. The compact and sleek design of the purifier integrates seamlessly into any room or environment, complementing your décor while providing efficient air purification.
Safety and durability are key features of our OEM air purifiers. Manufactured from high quality materials and rigorously tested, it ensures long lasting performance and reliability. The purifier is designed to operate quietly so you can enjoy clean air without unnecessary noise or disturbance.
Invest in our OEM air purifier and enjoy the benefits of clean and fresh air in your home, office or any indoor space. Experience the comfort and peace of mind that comes with breathing air that is free of pollutants and allergens. Improve your living environment with our OEM air purifiers and enjoy a healthier and more enjoyable atmosphere.
Descriptions
The air purifier is designed to accommodate rooms up to three hundred and sixty-one square feet (CADR: Dust 246 / Pollen 240 / Smoke 233 cubic feet).
The 4-stage filtration system (pre-filter, deodorizing filter, True HEPA filter, vital ion) captures and reduces up to 99. 97% of 0.3 micron particles in the air, including pollen, pollutants and other allergens. It also reduces VOCs and reduces odor.
The pollution sensor communicates indoor air quality in real time. The brightly colored LEDs lets you know how clean or dirty your indoor air is every minute of the day. It adopts a timer and filter life indicator.
By manual setting, the fan speeds available in 1, 2, 3 levels. Auto mode automatically optimizes speed settings 1 to 3 based on indoor air quality levels. When no pollution is detected for 30 minutes, the fan will automatically stop and be set to Eco mode to save energy. The timer function allows the machine to run for 1/4/8 hours before shutting off automatically. The Filter replacement indicator checks the pre-filter and HEPA filter separately, letting user know when to clean or replace the filter.
Seventy seven watts power consumption and quiet operation with noise levels from 24.4 dB to 53.8 dB.
Limited manufacturer's warranty of 1 year on any interior/functional parts and 3 years on motor and electronics. Filters are excluded.
Power source type: Electric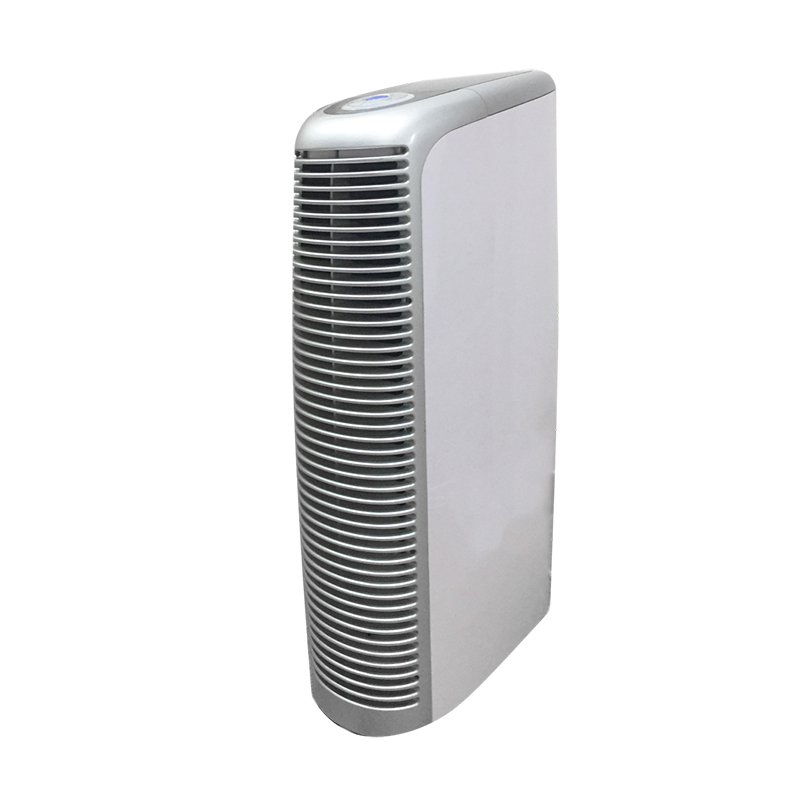 Pay Attention to Air Pollution Types
1) Indoor radon
The report of the United Nations Scientific Committee on the Effects of Atomic Radiation in 1982 pointed out that building materials are the most important source of indoor radon. Such as granite, brick sand, cement and gypsum, especially natural stones containing radioactive elements, are easy to release radon. Various stones have different radioactivity due to their different origins, geological structures and ages. The State Bureau of Quality and Technical Supervision has conducted random checks on the natural stones on the market. According to the tests and results, there are many granites that exceed the standard and have high radioactivity. Radon has been identified as a human carcinogen by the International Agency for Research on Cancer. Among the factors leading to lung cancer, radon is listed as the second factor after smoking. Electromagnetic radiation can affect human nerves, reproduction, cardiovascular, immune system and eyes. Natural stone also has a certain amount of radioactivity. Its radioactivity is mainly radioactive substances produced by the decay of three radioactive elements, radium, thorium, and potassium. Its harmful effects are internal radiation and external radiation.
2) Volatile
Indoor total volatile organic compounds (TVOC for short) mainly come from paints, aqueous coatings, adhesives, cosmetics, detergents, wood-based panels, wallpapers, carpets, etc. Thousands of TVOCs have been found indoors, which are divided into eight categories: alkanes, aromatics, alkenes, haloalkenes, esters, aldehydes, ketones and others. TVOC has a greater impact on the human body. If its concentration is too high, it will directly stimulate the sense of smell and other organs of the human body, causing irritating allergic reactions and neurological effects.